Fire alarm systems come in many different configurations, but they all serve the same essential purpose of keeping people safe during a fire. Whether in a residential or commercial setting, fire alarms alert occupants of a potential emergency so everyone can get out safely.
To do their jobs as intended, fire alarms and systems must be properly installed, functional, and maintained over time. Those are some of the reasons it's essential to consult a professional when installing, upgrading, or adding components to your system. Every building has unique needs, so there's no "one size fits all" approach to take when it comes to security and fire systems.
Fire Alarm Systems Explained
Fire alarm systems are actually groups of different components that work together to detect fire danger and alert occupants of the emergency. The kinds of components may vary depending on your specific needs, but the setup is essentially the same for most systems.
The components of your fire system work together to carry out four basic functions:
Detect potential fire dangers using various sensors, detectors, or manual pull stations. Smoke detectors are the most common equipment you'll find in residential and commercial systems.
Alert occupants of fire dangers using features such as sirens, horns, and strobing lights.
Monitor for alerts and use the appropriate notification devices to report the emergency.
Control the fire or its spread, either by activating fire suppression systems (like sprinklers) or shutting down the HVAC or elevators to minimize dangers.
The kinds of components your system will have and its functionality will depend on many factors. For example, fire suppression systems are far more common in commercial systems versus residential fire systems. However, both commercial and residential systems may have monitoring services depending on your security needs and preferences.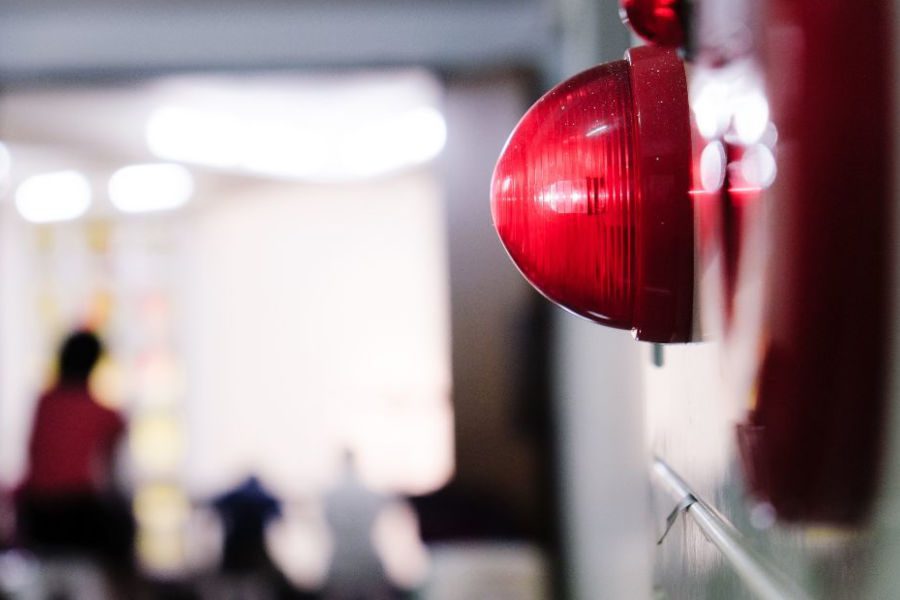 Standard Fire Alarm System Components And Costs
Even though fire systems can be very different from one building to the next, they still share many of the same components. However, your fire system may not have all of the available devices, and working with the right professional will ensure you have the right level of protection without going overboard with unnecessary equipment.
Fire alarm systems are made up of many devices and components, such as:
Control Panel: This is the fire system's command center and acts as the "brain" for the system. As the panel receives signals from other devices, it carries out the appropriate functions based on your system and settings.
Initiation Devices: These are the devices that tell the control panel there's a fire or other danger. They include smoke detectors, duct detectors, heat detectors, pull stations, tamper switches, and more.
Notification Devices: Devices like audible sirens, visible lights, strobes, horns, and communication devices work to notify occupants and other parties of the fire danger. Notification devices may also communicate with monitoring centers.
Suppression Systems: These systems are activated by the alarm's control panel and may include sprinkler systems, HVAC controls, power control systems, and other integrated devices.
The cost of your system will ultimately depend on its specifications and which components you need. Your building's size and occupancy type will also play a role.
Still, a functioning fire alarm system can help reduce property damage and save lives during an emergency. When every second counts, the peace of mind your fire system provides is priceless.
Is Your Building Required To Have A Fire System? Ask A Professional
Federal, state, and local building codes have many requirements relating to building safety. The National Fire Protection Association (NFPA) is considered one of the leading agencies for information related to fire safety. The NFPA Life Safety Code provides strategies and standards for construction, protection, and occupancy features to protect people from fire dangers.
According to the NFPA, certain buildings must have monitored fire alarm systems that will detect fire dangers and notify occupants. Some examples include:
Educational occupancies
Detention and correctional centers
Assembly occupancies
Businesses and retail buildings
Storage and industrial buildings
The NFPA also lays out standards for residential structures and other building types. With the many levels of regulations and requirements related to fire safety, it's always advisable to consult a professional about fire alarm system needs.
These are just a few of the many reasons that specifically consulting with a local alarm company familiar with building codes, and state or local requirements will help ensure you have exactly what you need for your system.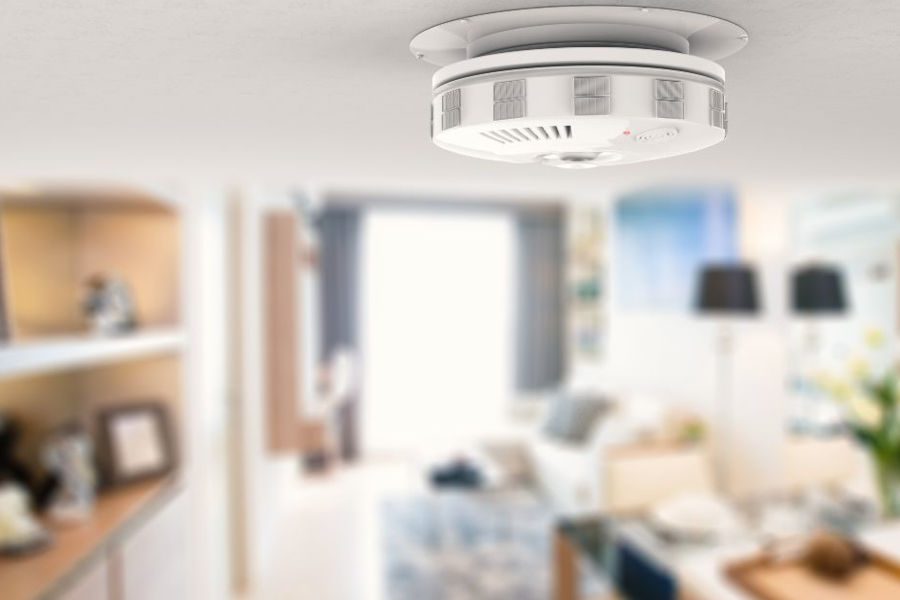 Benefits Of Fire Alarm Systems
There are countless benefits to having a fire alarm system installed in your home or business. Most importantly, it could potentially mean the difference between life and death during a fire.
Fire alarm systems detect fire dangers before many people can since they can pick up smoke particles in the air, changes in temperature, heat signatures, and other signals. Plus, your smoke detectors and fire alarm work 24/7, keeping you and your family safe during all hours.
The sooner a fire is detected, the sooner help can be dispatched to fight the blaze. That means it can reduce potential property damage and help keep occupants safe from the dangers of smoke inhalation once the blaze gets out of control.
There are also some financial benefits to fire alarm systems, such as homeowner's insurance discounts. Price breaks on insurance can help offset some of the cost of purchasing and installing the fire system.
Advantages Of Fire Alarm Monitoring
Fire alarm monitoring can mean the difference between a close call and a tragedy during a fire. Fire alarms only do their job when people are around to hear them or see the visual signals that danger is present. If the building is empty when a fire breaks out, that means there could be extensive property damage before anyone notifies the fire department.
For residential systems, monitoring services can protect you and your family while you're fast asleep or away on vacation. You'll rest assured knowing that professionals are standing by to call for help at the first sign of trouble. That means you can focus on getting your loved ones out to safety rather than trying to find your phone and call 911.
Fire Alarm Systems Save Lives
Having a fire alarm system is an easy way to protect your home or business from total loss during a fire. Choosing a trusted and reputable security company to guide you through the process is the best way to ensure you have exactly what you need to keep your home or commercial building safe.
Many state and local agencies require specific fire safety guidelines based on the building type and its use. Consulting a security professional that's familiar with the area and local building codes will ensure you have the right kind of system and components.